Invoice Factoring Imports
Financing Import Deals With Invoice Factoring
Invoice Factoring is an ideal solution for companies that need liquidity for inventory, payroll or to provide import financing for new transactions by converting invoices already on your books.
Invoice Factoring Overview
» Invoice Factoring provides immediate liquidity from your existing invoices.
» You sell your invoices or receivables to a factor at a slight discount from face value.
» Invoices are sold without recourse, so you have no continuing risk of any kind.
» Funds from Invoice Factoring transactions can be in your account within 48 hours.
» Factoring does not depend on your credit, so all small businesses and start-ups qualify.
» Funds from factoring transactions are not restricted.
» You can factor your invoices once, periodically or as often as you like.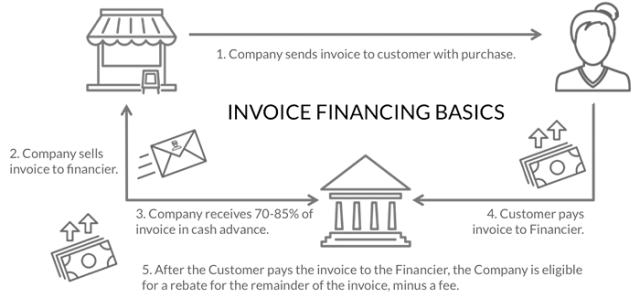 Growing companies that are in the business of cross-border trade can factor invoices to generate capital and put them in the position of being able to offer Open Account or Consignment Purchase trade terms to their overseas customers. Extending credit terms would increase sales to existing customers and would provide an incentive to sign new customers. Whatever your business goals, Invoice Factoring is a trade finance method that should always be part of the conversation because it will help you achieve your objectives.
Advantages of Invoice Factoring
No Business Credit Required
Factoring is the sale of invoices or accounts receivable. You are not borrowing money or incurring debt, so you don't need established business credit for factoring. Factoring credit decisions are based on your customer's ability to pay, not your business credit. Thus, Invoice Factoring is available to startup companies, when most other financing is not.
---
Factoring Is Fast
Once you are set up with a factor, you can most often have money in your account in 48 hours or less, much faster turnaround than a bank!
---
Factoring Is Not Debt
When you factor your invoices, you are selling assets not borrowing money. You do not incur debt of any kind, your liabilities don't increase, and there is no adverse effect on your balance sheet or other financial statements.
Additional Services
After closing on a factoring transaction, it is not uncommon for the factoring company to provide additional services to their clients such as billing, invoice collections, and account receivable management, saving you time which can be spent on growing your business and increasing sales.
---
Manage Cash Flow
Invoice Factoring gives you the liquidity you need pay your bills and grow your business. No more waiting 60 days or more to get paid.
---
Unrestricted Use of Funds
Because factoring is the sale of assets (invoices or accounts receivable), your business is not incurring any debt. Thus there are no restrictions or limitations on the funds you receive from the factor. It's your money to do with as you please.
Invoice Factoring Best Practices
Factoring is a common form of SME finance that involves selling your business invoices or broader accounts receivable to a factor. A factor is a financier, a financial intermediary that is in the business of purchasing receivables.
While factoring is not strictly considered alternative financing, a factor is a non-bank alternative source of trade funding that will pay you the value of your invoices, less a discount for commission and fees. The factor will advance you most of the invoice amount immediately, and pay you the balance upon receipt of funds from the invoiced party.
Factoring provides your business with immediate capital based on the future income which is attributable to amounts due on an account receivable or business invoice. Your accounts receivable function as a record of the credit extended to your customers for which payment is still due. The terms for factoring transactions vary depending on the amounts, remaining term, credit-worthiness of the customer and the internal policies and practices of the factor.
The terms for factoring transactions vary depending on the amounts, remaining term, credit-worthiness of the customer and the internal policies and practices of the factor. Invoice factoring transactions close very quickly and you will typically receive funds for newly factored invoices within 24 hours. The advance rate, which is the percentage of invoices or accounts receivables which are advanced by the factor vary, along with the discount and factoring fee.
Although it may seem like a subtle distinction, it is nonetheless a distinction; factoring is not considered a loan to your business because you haven't taken on responsibility or liability for any debt the as part of the transaction. Factoring transactions do not increase liabilities on your balance sheet. An additional advantage to factoring is that there are no restrictions or limitations on how you use the funds you receive from the factor.
See also Accounts Receivable Factoring »
Invoice Factoring Terms Glossary
Accounts Receivable
Accounts Receivable is money owed to a company by a customer for products and /or services sold. Accounts receivable is considered a current asset on a balance sheet once an invoice has been sent to the customer.
Accounts Receivable Financing
Accounts Receivable Financing is a method of financing where a company sells their accounts receivable in exchange for working capital. An A/R credit line is determined by the financial strength of the customers, not the borrower.
Asset Based Lending
Asset Based Lending is a method of financing that allows a business to leverage company assets as collateral for a loan. Asset-based loans are seen as an alternative to traditional loans and are characterized with greater risk and higher interest rates.
Commercial Finance
Commercial Finance is defined as the offering of loans to businesses by a bank or other lender. Commercial loans are either secured by business assets, accounts receivable, etc., or unsecured, in which case the lender relies on the borrower's cash flow to repay the loan.
Credit Report
A Credit Report is a detailed document supplied by a third party reporting agency that summarizes a firm's credit history and current financial position. It will inform of any lien in force or pending verdict(s) against the company.
Factoring
Factoring is the selling of a company's accounts receivable at a discount. The lender assumes the credit risk of the debtor and receives the cash when the debtor settles the account. Global Trade Funding offers Factoring as a trade finance solution.
Invoice Discounting
Invoice Discounting is a type of loan that is drawn against a company's outstanding invoices but does not require that the company give up administrative control of those invoices.
Receivable Management
Receivable Management involves processing activities related to managing a company's accounts receivable including collections, credit policies and minimizing any risk that threatens a firm from collecting receivables.
Trade Credit Insurance
Trade Credit Insurance is a risk management product offered to business entities wishing to protect their balance sheet assets from loss due to credit risks such as protracted default, insolvency and bankruptcy. Trade Credit Insurance often includes a component of political risk insurance, which insures the risk of non-payment by foreign buyers due to currency issues, political unrest, expropriation, etc.
Traditional Factoring
Traditional factoring is an ideal solution for companies that need extra cash flow to purchase inventory, cover payroll or invest in marketing. You are able to create an immediate influx of cash based on the invoices already on your books. The finance provider, known as the factor purchases all of your accounts receivables and advances you 70% to 90% of the total amount within 24 to 48 hours. The factor pays you the remainder of what you're owed once your client pays the factor, usually 30 to 45 days later. It deducts a small fee, based on the size and age of each invoice.
---
Spot Factoring
Small business owners opt for this form of factoring when they do not want to factor all of their invoices. Typically, businesses will want to spot factor when they don't need a steady flow of cash or have varying gross margins where it does not make sense to factor. Unlike traditional factoring, where the company turns over all invoices, spot factoring is available on an as-needed or one-time basis. This flexibility comes at a premium but often makes sense if you have one client that is particularly slow or if a consistent flow of capital is not needed
---
Construction Factoring
Construction finance offers sub-contractors and general contractors access to quick cash from your invoices so you can get the funds you need to start your next project. The financier (factor) purchases construction invoices and advances a percentage—often within 24 hours—then collects the funds and forwards the remainder of the invoice to you, less a factoring fee. Few factoring firms work with the construction industry, but we have direct lines into those that do. We will help you find the financial partner that will provide the best solution for your company's particular situation.
---
Export Factoring
Export factoring works for companies that want to offer terms to international customers but still want to receive cash when the goods are delivered. The finance company or factor purchases your receivables and forwards payment, usually 70% to 90%, once it has the receivables documentation. The client pays the factor, not you, once it receives the goods. The factor pays you the balance when it receives payment from the customer, less a small fee.
---
Medical Services Factoring
Medical Services Factoring fills the cash gap inherent with receivables of third-party payers, such as insurance companies, Medicare or Medicaid. It gives you quick access to funds to pay bills, payroll, and buy equipment. With Medical Services Factoring, you perform a service and send the invoice to the factor. The factor then forwards a percentage of the invoice to you. After the factor collects the invoice from the debtor, you receive the remaining amount on the invoice, less the factoring fee.
---
Recourse v Non-Recourse Factoring
Recourse Factoring is appropriate if you have financially healthy clients. You agree to buy back or exchange with other invoices of equal or greater value, noncollectable invoices. Recourse factoring offers lower fee because of less risk.
With non-recourse factoring risk of insolvency and non-payment is transferred to the Factor. The Factor cannot come back to you for payment if the customer fails to pay. The Factor is not required to cover disputed invoices.
Invoice Factoring For Trade Financing
We specialize in invoice factoring for startups, small businesses and medium-sized enterprises that don't have access to traditional sources of trade finance. Work with Global Trade Funding and you get a financial partner who focuses on your needs and is committed to your success.
GET STARTED TODAY
Click to learn more about invoice factoring today.
Related Financing We Provide
Trade Finance Solutions
We offer a wide range of innovative financing solutions to fund imports, exports and commodities.
Trade Finance Solutions »
Bank Instrument Monetization
We provide unsurpassed expertise in monetizing financial instruments to fund imports and exports.
Monetization Services »
Export Financing
We offer invoice factoring, forfaiting, monetization and other solutions specifically designed for exporters.
Export Financing »
Commodity Financing
Extensive financing options to fund agricultural, livestock, mining and petroleum commodities.
Commodity Financing »
Dublin · Hong Kong · Johannesburg · London · Prague · Sydney · Vancouver · Washington DC · Zurich