Rethinking Trade And Finance 2015
Trade Finance Research Report
Rethinking Trade And Finance 2015 Research Report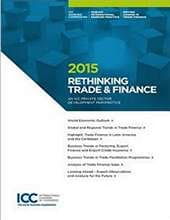 Trade finance research report Rethinking Trade And Finance 2015 is the 7th annual ICC report on global trade. The report, which publishes the results of the ICC Global Survey on Trade And Finance, is conducted and published annually by the International Chamber of Commerce (ICC), one of the trade finance industry's most prolific advocates. The trade finance research report is an eagerly anticipated annual publication that proves to be essential reading for the entire global trade finance industry.
This year's trade finance research report brings focus to bear on the direct and indirect consequences of recent regulatory changes that apply to banks that significantly increased trade finance due diligence requirements and costs. The trade finance research report highlights how growing regulatory burdens, increasing costs and diminishing risk appetites have driven historically active trade finance banks to pull back, reducing their market participation, causing a significant global decline in market liquidity and a worldwide shortage of trade financing.
Focusing on unintended consequences, the trade finance research report drills down on rising regulatory burdens and declining market liquidity, along with their disparate impact on small businesses, many of whom are now finding they no longer have access to trade financing and are unable to finance their deals.
The International Chamber of Commerce trade finance research report goes a long way towards enhancing understanding of trade finance and helps businesses assess patterns of trade financing in global markets. The report also helps the reader discern the causes of the trade finance shortage, in turn preparing them to make informed decisions. This year's global survey includes data from 482 survey respondents across 112 countries.
Click to download Rethinking Trade And Finance 2015 research report as PDF file.
Research Library Document Information
Title: Rethinking Trade And Finance 2015
Publisher: International Chamber of Commerce
Published to Research Library: February 3, 2017
Document details: 176 pages
14.75 megabytes
Primary research category: Trade finance
Secondary research category: Trade finance due diligence
Distribution: Global
Alternate Media: PDF Download
Internal Search Data
rethinking trade & finance
trade finance research
trade finance report
ICC trade finance report
trade financing report
trade regulations reports
trade funding research
Dublin · Hong Kong · Johannesburg · London · Prague · Sydney · Vancouver · Washington DC · Zurich